Community
The AGI community is fairly small but very friendly. There are always conversations running over the messageboards and there are some other avenues where people can chat about AGI.
Messageboard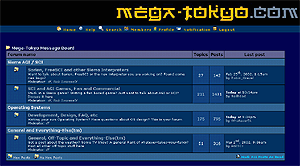 The Mega-Tokyo Messageboard is where most AGI Developers communicate.
The AGI community has two messageboards that people frequent. The Megatokyo board has forums for Interpreters and AGI games which are the most popular among AGI developers. Chris's AGI & SCI Messageboard is a recent addition and is slowly gaining users. The people on both boards are very friendly, likely to answer and questions you might have with programming and have many regulars that come in very once 'n a while.
There is also a cjb link pointing to the current AGI messageboard. There are popunder ads as well as it being a slow link however. It's recomended you try the other two links first.
Messageboard History
(note, most of these links won't work. They are for historical purposes.)
The AGI community used to hang around on a very simple InsideTheWeb messageboard, it was joined by a Delphi one as well. This was when AGI development had just started and people were full of enthusiasm. Later on, they all moved to an ultraboard from homepagetools.com. As the story goes, they allege that their system was "cracked" into and they lost half of their data. Unfortunately, the AGI messageboard was on the half that disappeared. Myst, the moderator, tried to host her own messageboard but came upon some technical problems. Dark Fiber offered his own board, originally for OS Development, for AGI developers and so that's where we all chat now.
Unfortunately, amongst all the confusion, we lost a few people's interest and many of the core people who knew a lot about AGI disappeared. This had lead to many people's questions being unanswered whenever they have a technical problem during AGI programming. This site is trying to prevent this from getting worse by piecing all AGI development together.
Chat
If you want some realtime chat with other people interested in AGI there are two mediums available to you: Web Chat and IRC.
Web Chat
Chris Cromer, along with his new site, has added a chat page. It already has a few regulars and all you need is a web browser to access it. You don't have any excuses sorry, you have to check it out!
IRC
Internet Relay Chat, or IRC, is medium used by lots of people, including people interested in AGI. If you're lucky, it's possible to be able to chat with some of them in real-time. Make sure you have an appropriate client like mIRC, Visual IRC, Mozilla, Trillian or a web IRC client to access IRC. The servers that most people go on are:
#agi on Dalnet at irc.dal.net
#sarien on Openprojects at irc.openprojects.net
The times that people appear vary so you may have to experiment.
Chris Cromer has also made available a web IRC client to access the #agi channel if you don't wish to play around with an IRC client.
WebRing
The WebRing has been around for a very long time.
WebRings are a ring of connected sites that share the same theme. Please see the AGI WebRing page for more information on the Ring, Joining or changing your registered site's settings.
Mailing List
A mailing list is a way for lots of people to dicuss a specific topic over email. Whenever somebody sends an email to a mailing list, the mailing list server sends out duplicate copies of that email to every person registered to that list. While there is no specific AGI mailing list, Sarien does have an open list for people developing Sarien or who have a very technical question. Visit the sarien-devel Info Page for more information.